In our continuous efforts to provide the best service to our clients, Centrex announces an enhancement to the Notes and Alerts functions on the Contact Dashboard.
These enhancements improve the agent and admin experiences within the Centrex CRM. Time-bound alerts with three (3) new priority levels assist in displaying only the most important of messages to agents. A fully redesigned note feed allows agents to quickly sort, search and filter for notes that are most important when you have a consumer on the phone or want to audit a client file. Setup and training for admins are now also reduced through an expansion of the note templates feature that now supports titles/metadata and a brand-new User Interface (UI).
Notes Feed
Thanks to ideas we received from our valued clients about the desire for a more modern note feed, we have made it easier for our users to manage and recall their notes. We took your suggestions and improved the Existing Notes feed to make it easier to drill down and find exactly what you need (see the image below).
We added several additional filter criteria to speed up your search for existing notes. By clicking the Show Filters button to the right of the Existing Notes section (see image above), you can now search by Note Type, Creator, Creation Dates, as well as sorting by the most recent or oldest Note.
Note Templates
We made the management of note templates easier than ever through a brand-new UI and additional metadata that you can add to each template. The new Title & Description parameters allow admins to define specific note template titles that agents can be trained on and use for consistent communications with clients.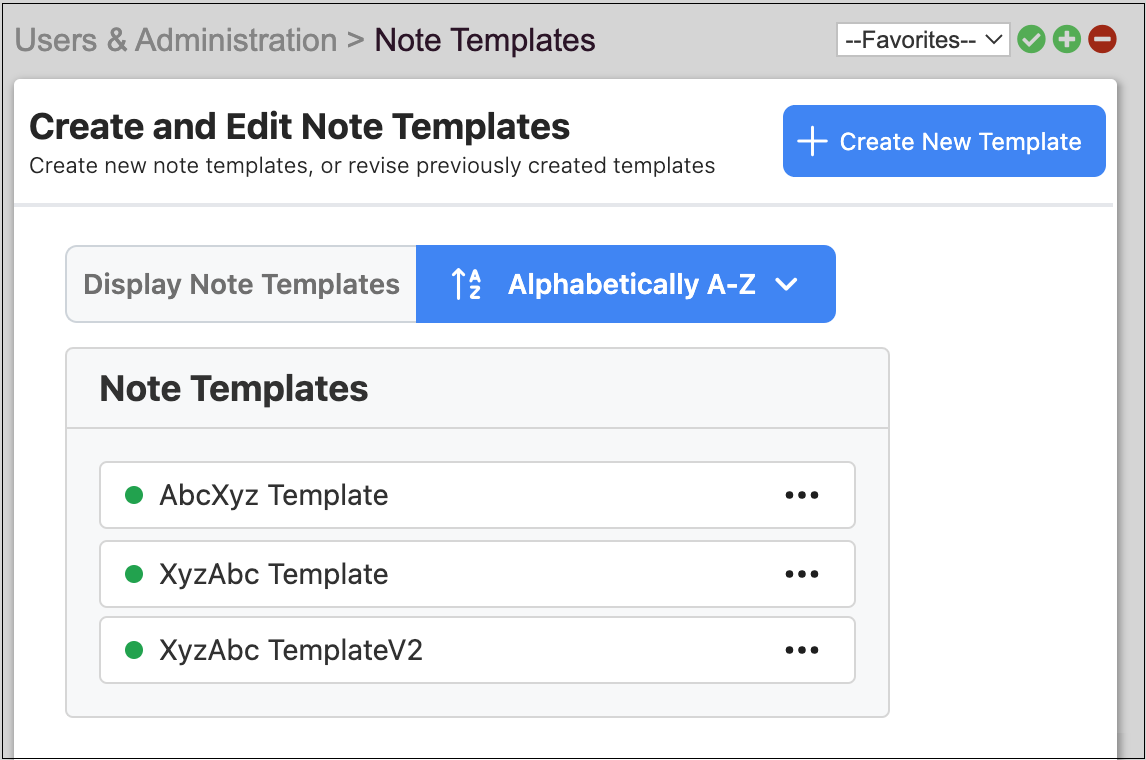 By clicking on the "Create New Template" button, the following page appears ready for your input.
Alerts
You also told us that you wanted a more modern Alerts experience, with greater options to customize different alerts by priority and allow for an automatic expiration date for your alerts. We took your suggestions and enhanced our Alerts feature as well.
After clicking Add Alert (found on the far right of the Navigation Bar), the dialog box below offers an enhanced set of options. You can assign Alert Type (priority level), and expiration date if desired. See the example below.
Once you enter the Alert text in the open field, click the Save Alert button and you will see your Alert appear near the top of the Client Dashboard area (see red arrow below).
To make changes to the existing alert, click Update found on the right side of the alert. After clicking Update, the following dialog box appears:
Each alert is presented with a varying level of visual importance and as such can be used to grab the agent's attention to communicate important information. Expiring alerts also prevent clutter on client files in case certain notices are time bound.
What are the Benefits of this New Feature?
Improved agent experience in quickly locating specific note information by type, date, or creator.
Enhanced auditing functionality to quickly drill into large sets of notes to pinpoint records entered by specific agents.
Standardization and control of note templates by admins and power users to drive consistency and structure in agent workflows.
Improved alert visibility to agents and sales users. Assigning Standard, Escalated, and Urgent priority levels to alerts, organizing those alerts by priority, and then dismissing alerts after an assigned expiration date.
Cleaner, modern, and higher-performance user experience